Condition monitoring
The vibration-based condition monitoring of rotating devices is still the most efficient and reliable way to determine the mechanical condition of the device and the corrective actions needed.
Based on the information gained from the vibration measurements, the faulty components and repair schedule can be determined early.
Condition monitoring ensures:
Better reliability

Reduction of unplanned shutdowns

Improvement of the planning and implementation of the maintenance work (spare parts, resources, schedules)
Information produced by the vibration studies
Measured vibration responses of rotating mechanical devices include its mechanical condition and changes in it.
This is based on the fact, that each failure mode creates unique vibration frequency component, which can be identified from the vibration measurement results, failure modes such as:
Imbalance

Bearing faults

Gearwheel faults

Misalignments
Condition monitoring services
Our services on considering the condition monitoring are:
Start-up of the factory's condition monitoring

Implementation of the condition monitoring

Remote condition monitoring services

Training
We use the following condition monitoring analyzers with the related software:
CSI 2130 machinery health analyzer

SKF Microlog Analyzer AX

Fag Detector III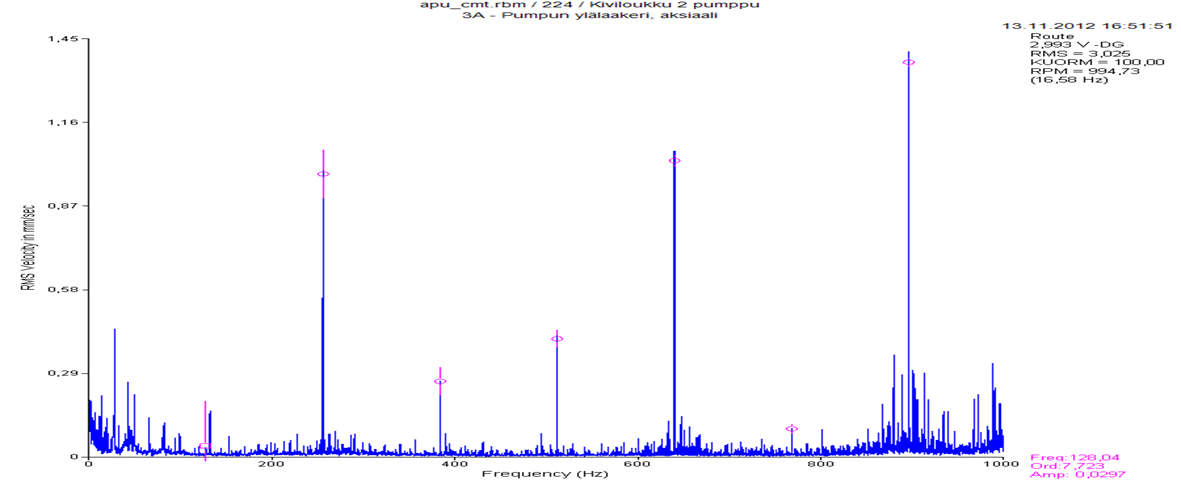 | BEARING TYPE | #B/R | FTF | BSF | BPFO | BPFI | |
| --- | --- | --- | --- | --- | --- | --- |
| KOY NU2230 | 18 | .433 | 3.683 | 7.800 | 10.200 | 16.6 Hz x 7.800 = 129.5 Hz |
| SKF NU2230 | 17 | .433 | 3.683 | 7.367 | 9.633 | |